The two types of solar hot water panels
There are two main types of solar hot water panels for sale:
Panel Based Systems
Hot water solar panels systems use flat solar hot water panels that sit diagonally on your roof. These panels collect the heat directly from the sun's rays and transfer it into your household's water by being pumped through the panels.  The water heats up as the sun's heat is absorbed into it, which is then stored in an insulated tank.
So what happens when it's not sunny outside?
Once the heated water that has been stored in the insulated tank has been used up, the system relies on a backup fuel source. This comes from either electricity or gas, depending on what system you've chosen.
The efficiency of your system will depend on where you live. For example, if you live somewhere like Darwin or Cairns, up to 100% of your hot water can come from your solar hot water panels. Whereas in a location like Hobart, about 50% of your water would generally be heated by your solar hot water panels.
Heat Pump Systems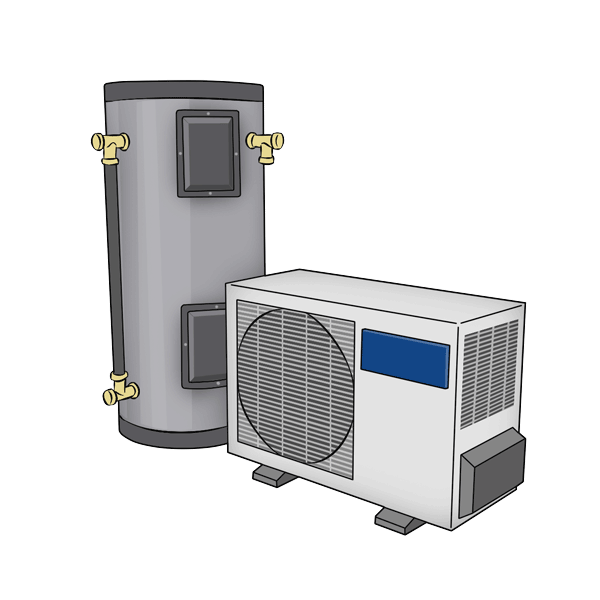 Heat pump systems look a lot different to what you might consider on of the typical types of solar hot water systems, but they still do some amazing things using the natural resources of the sun.
Heat pumps work best in warm and humid environments, so if you live in a cold, dry climate where the temperature regularly goes below zero, a heat pump system may not be the most efficient for you. Air-sourced heat pumps work in a very similar way to that of your fridge or air conditioner, but instead of taking the heat out of an area, the heat pump works by absorbing heat from the air and transferring it to the water. Heat pump systems do rely on electricity to transfer the heat into the water, but they use almost 75% less energy than the traditional electrical hot water system.
Electric heat pumps are the way to go if you live in a warm and humid environment. Even when the outside temperature lowers, the system can rely on an electric booster to ensure that you have hot water year round. They also have plenty of benefits that may be useful regarding your own circumstances:
If you have limited space or access
Where solar energy is not applicable, for example lack of roof access, lack of sunlight, poor orientation or shade
Natural gas is not available