Electricity prices for businesses and households across Australia have increased sharply in recent years and indications are rife that the prices will keep skyrocketing.
Based on EnergyAustralia's latest announcement, the company plans to increase electricity prices in Sydney by 19.6 per cent – or $320 a year – starting July 1.
This increase will see the average household bill hike by an extra $6.15 a week.
The announcement also revealed a price rise in gas by 6.6 per cent.
Kim Clarke, the chief customer officer at EnergyAustralia described the move as "bad news for families and business."
"This is … absolutely not what they wanted to hear. In the past 12 months alone wholesale prices for both electricity and gas have surged, almost doubling in some states," Ms Clarke added.
Apparently, small-to-medium-sized businesses will pay more on their electricity by 19.9 per cent a year ($17.60 a week) and 10.7 per cent ($20.05 a week) on gas.
EnergyAustralia price increase announcement comes immediately after AGL revealed plans to increase its electricity prices by 16.1 percent and gas prices by 9.3 percent.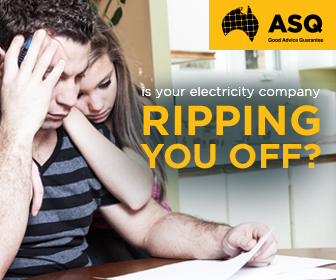 Advertisment - Learn more
Comparatively,  on average electricity prices rose by about eight per cent over all retailers last year, a St Vincent de Paul Society reported stated.
Gavin Dufty from St Vincent de Paul Society commented that the increase from EnergyAustralia was a bit higher than anticipated, and warmed consumers it "would not be the end".
"These price increases will also be higher for non-solar households, for whom they will be closer to $400 a year,"
"And for larger consumption households with families and lots of kids, it will be higher again."
It's estimated high usage households could see an increase of 20.8 per cent, amounting to $517 per year.
Mr Dufty said the cause for varying increases by retailers is due to it being based on their average portfolio.
"You might find AGL has more solar households, so they use less, therefore the increase is lower."
According to Ms Clarkle, the price rises reflect the impact of increased wholesale costs, after the closure of the large coal-fired power stations and issues with reliability with generators.
EnergyAustralia has committed to a one-off $10 million injection into the hardship program in preparation for the price increase.
This program generally runs at $15. million a year.
St Vincent de Paul called for "all the energy companies to muscle up their energy hardship programs and support for vulnerable Australians," said Mr Dufty.
Price increase follows Alan Finkel's review
The increase in price follows Alan Finkel's long sought after review of the Australian electricity market, which included a emission reduction plan, aimed to improve reliability and decrease power bills.
Don Harwin, NSW Energy and Utilities Minister stated he felt "disappointed" by the increase which resulted from the "broken national energy market".
"As the Prime Minister and Federal Energy Minister have said in the past week, this is a national problem and we need a sensible solution out of the Finkel Review," he said.
"For those facing hardship the NSW Government has a range of rebates to help vulnerable customers pay their electricity and gas bills…I urge people who are struggling to call Service NSW or their retailer to find out what rebates they are eligible for."
For more on how to achieve a zero electricity bill in Australia, please click here.