What is an electric hot water system?
Electric hot water systems are the most common systems found throughout Australia today. Although the standard electric hot water system is beginning has been phased out in the construction of new homes and businesses in some states and territories, the traditional electric model is still in use, and available for purchase.
Electric hot water systems are powered by the electricity in use at your home or business. They are effective systems as they provide you with access to hot water at any time of the day or night. As they are also the most commonly found system in Australian homes, an electric hot water system therefore has access to a reliable network of maintenance professionals for service when necessary.
An instant electric hot water system is however the most expensive, and least environmentally friendly option on the market. If you are looking for a replacement system, a more sustainable alternative, or a cheaper option for hot water, Australian Hot Water Quotes can help you make the decision that's right for your home or business. Just follow this link back our homepage to see what other options you have to find the right hot water system for you.
Why electric?
These systems can provide you with hot water at any time of the day or night, as their heating systems are connected to the electricity use and energy of your household or business. Electric instant hot water systems may then be a good option for your home if you have little access to direct sunlight or natural gas to run your hot water system.
Electric hot water systems are the most expensive option on the Australian market as the cost of electricity continues to rise. Storage systems that heat the water throughout the day are the most expensive type of system, as they operate through off-peak and on-peak times meaning that they succumb to extra tariffs during the night.
Storage systems are the most common type of electric hot water system, as they store the heated water inside an insulated tank and are then connected to the building's electricity supply to maintain heat within the tank. Instantaneous systems and electric heat pump systems are also available for electric hot water systems, however they can be more expensive to install.
Benefits
Reliable system
Common throughout Australia, therefore easily accessible maintenance costs
Can remain in good working condition for decades
Access to hot water at any time
Runs off a continuously available resource
Drawbacks
More expensive option due to rising electricity prices
Possible tariffs put in place if run throughout off-peak times
Beginning to be phased out
Significantly higher greenhouse gas emissions
Types of Electric Hot Water Systems
There are three types of instantaneous electric hot water systems on the market. Similar to gas hot water systems, the storage unit and continuous flow units are the most common varieties. However, electrically powered heat pump systems are also available.
Storage Units
Storage unit hot water systems operate through the insulated tank that is continuously heated through an element operated by the electricity from the household These systems can be operated throughout the day and night to maintain heated water, however, can be programmed to operate only during the daytime hours in order to avoid off-peak tariff fees.
Electric storage unit systems operate similarly to their gas counterparts. However, instead of a copper coil heating the water through gas, the water is heated through two electrical elements that are connected to an electrical supply. Two main pipes are connected to the tank, one flows cold water into the system from the main pump, and the other flows the heated water into the house as needed. The cold water goes to the bottom of the tank where it becomes heated, and the warmer water rises and heats as it rises, providing a continuous flow of hot water as it circulates within the tank. There is a temperature control connected to the system that maintains the heat within the tank, this heat must be at least 60 degrees in order to counteract any bacterial infections from entering the water system.
Benefits
Continuously heated water, available at any time
Available energy resources through electricity
Reliable and dependent system
Reasonably low maintenance
Drawbacks
Most expensive hot water system available
Produces high emissions of greenhouse gasses
Off-peak tariffs apply to continued use
Are being phased out in some parts of Australia
Continuous Flow
Continuous flow, or instantaneous, hot water systems are a much smaller and more efficient option than the storage unit system. Continuous flow systems run through a small mounted heating system that is typically installed inside. Using a thermostat gauge, the temperature of the hot water is continuously controlled. And, as it is not connected to a storage tank, it allows access to "unlimited" hot water at any time of the day or night.The electrical continuous flow system runs similarly to the gas continuous flow system, differing only in the way in which it heats the water. Instead of being heated through a system using pipes connected to a supply of gas, the water is heated in connection to the electrical energy supply of the building.
Continuous flow systems are efficient to your household as the water is continuously available, however there are some drawbacks to continuous flow systems. These include: continued access to hot water, this may mean that more hot water is used than typically as it is "unlimited", resulting in extra costs; another drawback is that when the system is in use through one tap the heat and pressure of the water in secondary taps can be significantly affected.
Benefits
Small and easily managed system
Efficient and "unlimited" supply to hot water
Lower costs than storage units
Powered by highly available energy (electricity)
Drawbacks
"Unlimited" supply of water can result in higher use, therefore higher costs
More expensive than gas systems
Reduced heat and pressure when in use with more than one tap
Produces high greenhouse gas emissions
Heat Pumps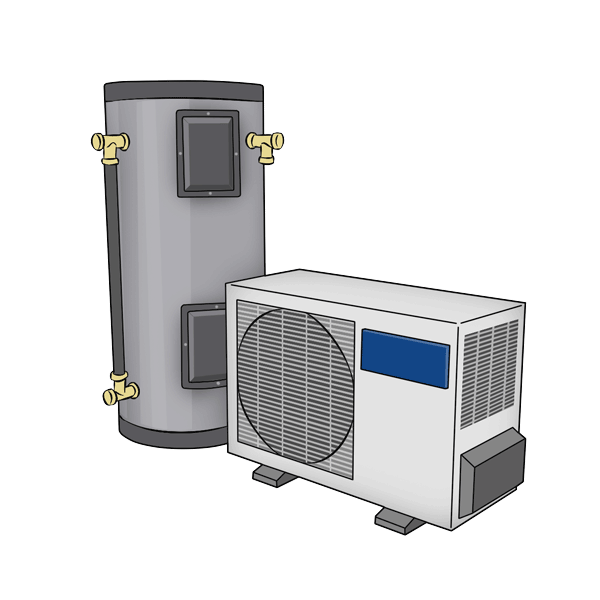 Heat pump systems are more commonly associated alongside solar powered systems, due to their reliance on the heat within the environment to warm their stored water. However, heat pump systems can only be operated through the use of electricity, making them part of the electrical hot water system family. As their operating system is highly associated with environmental resources, the heat pump system is the most sustainable option of the electrical hot water systems on the market.
The heat pump system operated in a unique way to typical hot water systems. The operating system is similar to that of an air-conditioner or refrigerator, however, instead of using electricity to cool the air, the system uses electricity to warm water stored inside the tank using the warmth from the outside environment. The air conditioning system runs in heat mode, and uses the heat it collects to warm a well-insulated water tank. The heat is transferred from the air conditioning system to a compressed refrigerant that flows through into a coil that sits inside the tank. The coil is then used to circulate cold water from the bottom of the tank towards the top where it is heated. This process is demonstrated with more detail through the diagram below:
With the use of electricity to power the system, and assist in heating the water, the heat pump electrical hot water system is an innovative and sustainable option for electrically heated hot water. For those in warm climates, who may not have great access to direct sunlight, and prefer the ease of access to electricity than gas, the heat pump electrical hot water system may be the best choice for you.
Benefits
Sustainable and efficient
Makes use of natural resources
More cost-effective than other electric systems
Access to highly available energy (electricity)
Drawbacks
Less common system, therefore less known maintenance
Requires warm natural environment to work efficiently
May not be suitable for all areas of Australia
Restrictions and Regulations
The average electrical hot water system produces up to four tonnes of greenhouse gasses per year, which is similar to that of an average sized car, and is almost three times more emissions than that of more sustainably run systems. In order to combat the impact of the electric systems on the environment, the government placed restrictions on the installation of electrically hot water systems in 2012.
These restrictions apply to the installation of new electrical hot water systems in terrace, detached, and town houses, or in any existing property where piped access to natural gas is installed. These regulations have been permanently placed throughout the ACT, South Australia, and Western Australia. In Victoria, certain provision have been made in regard to the use of hot water through the 6 Star standard for buildings. However, New South Wales and Queensland have no set restrictions against electric systems, but may have particular restrictions regarding the installation of electrical hot water systems in new properties, particular if they are detached, terraced, or town houses.
For more information on electrical hot water systems and their installation or replacement, you can contact your local city council, or consult a professional.
How big a hot water system do I need?
The size of the hot water system that you will need is dependent on a few things. The first is: how much hot water does your household typically use?
Once you've figured that out, it's time to consider which type of gas hot water system will be the best for your home or business.
Our helpful guide will assist you to measure up how a gas hot water system will change the way you use your hot water, in comparison to the other most common models on the market. So help us to help you to find the most compatible system for your lifestyle.