Solar panel prices can range widely, however it mostly depends on the size of the solar power system.
Residential and commercial solar power systems can start as small as 1.5kW and can go above 50kW. The right sized system for your property depends on your expectations on price, quality and service.
How much do you want to spend on a solar power system?
How much roof space do you have to install the panels?
What size system has your energy retailer approved you for?
What level of service meets your needs?
What quality of parts and installation do you expect?
We recommend that you take advantage of our free service and get 3 FREE solar quotes from multiple suppliers.
With the Australian Solar Credits rebate, you will receive a point of sale discount when you purchase solar panels for your home or business. And the more solar panels you install, the higher the financial incentive.
What influences affect Australian solar panel prices
Solar power has never been more affordable in Australia than what it is right now. Especially if you live in any of the major cities including Brisbane, Sydney, Melbourne or Perth.
For example, solar panel prices in Brisbane tend to be slightly cheaper than what the prices are in North Queensland. There are a couple of reasons for this, one being that there are no long distance freight charges and two, the cost to hire qualified tradespeople.
The cost to install solar panels can vary depending on where your home is located. Towns like Mackay, Perth and Newcastle tend to have increased labour and installation costs compared to say Brisbane of Melbourne. This is caused mainly by the Australian mining industry and its dominance in these towns. With trades people in high demand in these mining towns, receiving top dollar for their services, the cost to install solar panels can also be inflated. Especially if you compare like for like cost to install solar in Brisbane or one of the other major cities.
In conclusion, the location that the solar panels are being installed is the major variable that differentiates solar panel prices and the cost to install.
1.5kW Solar System
| | |
| --- | --- |
| Cost | $3,700 |
| Government Rebate | $1,200 |
| You Pay | $2,500 |
3.0kW Solar System
| | |
| --- | --- |
| Cost | $6,900 |
| Government Rebate | $2,400 |
| You Pay | $4,500 |
5.0kW Solar System
| | |
| --- | --- |
| Cost | $11,000 |
| Government Rebate | $4,000 |
| You Pay | $7,000 |
The million dollar question:
How much will I need to spend on solar panels if my goal is to eliminate my power bill?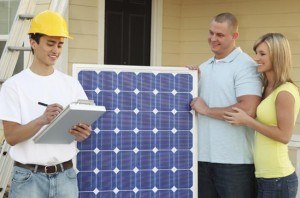 "If only we had a crystal ball."
Going off the power bills that I have seen in my time as a consultant, I would say that the average Australian household would more than likely need a solar power system between 3.0kW and 5.0kW.
Most energy consultants will be able to give you a more accurate estimate on your solar panel prices based on your past electricity bills when they do an on-site assessment, just ask the question. The more power usage history that you provide your solar consultant, the more accurate the estimate will be.