Every day it seems new technology is being invented to help us live more actively and get more done. The technology can be applied in a diverse range of pursuits including farming, fishing, and even camping. No matter what the application, all these technologies have one thing in common: they all depend on power to function.
What are Portable Solar Panels
Portable solar technology provides the ideal solution to meet this need. They are light-weight, robust, and dependable. The difference between portable solar panels for sale and those used in fixed installations is that the portable ones are designed especially to be smaller, lighter, and stronger than regular solar panels.
They are also modular and designed to be easy to use in the field. This makes portable solar panels a simple and practical solution for providing power to outdoor activities where regular electricity is unavailable or difficult to access.
You can purchase individual stand-alone panels, but many people prefer to buy portable solar panel kits which are designed to be an all-in-one solution and often include built-in solar batteries. There are huge variations in design, with some configurations being more suitable for particular applications than for others.
For example there are portable solar panel kits designed simply to recharge a single small USB powered device such as a GPS unit or a tablet PC. On the other hand, a portable solar kit can be the size of a small building and designed to power multiple appliances (these are usually built onto trailers so they can be moved to where they are needed). Larger kits are often used in high demand situations such as in military or fire-fighting applications.
Choosing the Right Solar Panel
Selecting the right portable solar panels and solar batteries for your needs is a very important consideration. Searching portable solar panel reviews is also a good way to find a system to best suit your needs. CIGS panels, for example, employ thin film technology that makes them very light and inexpensive. This makes them ideal for use in mobile robotics or for recharging your appliances on camping trips.
For activities requiring more durability, however, mono-crystalline panels are a better choice because they can stand up to a lot of punishment and will give years of reliable service in even the most extreme conditions.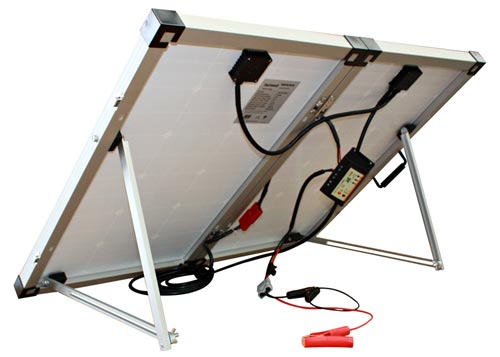 Panels are measured by output watts from 3 watts up to about 120 watts, so this is another thing you need to consider. In theory, the higher the output, the more energy will be available to power your appliances, but you can have too much of a good thing!
Kits that include a solar battery will be heavier but also give you access to stored energy long after sundown. The built-in battery may also be less troublesome than fiddling about with external batteries.
In summary if you live an active life and need to get out and about – but not necessarily get away from it all – then a portable solar panel kit will be a sound investment that keeps you connected.