Hervey Bay will soon be on Australia's solar map as two of the community solar farms begin construction. A total of $4 million of solar power investments will take footing at Hervey Bay hospital and Wide Bay Water Corporation opening green related jobs, boosting local solar industry and saving hundreds of tonnes of carbon each year.
Currently Hervey Bay is a major player in building virtual solar power in Queensland and with a strong pipeline of projects this year the city can be distinguished as one of the most promising renewable energy powered region not only for the state but the rest of the country.
The $2.7 million Wide Bay Water Corporation solar panel project will consist of 1600 solar panels generating a total output of 396 kilowatts enough power to supply nearly 100 homes offsetting 600 tonnes of carbon each year. Queensland Energy Minister Stephen Robertson said that the project will also have a huge impact of local economy opening a number of positions in the fields of construction and maintenance, encourage more community investments in renewable energy particularly solar power and catalysing business growth related to the industry.
The community solar farm will be built at Wide Bay Water Corporation premises at Kawungan. Construction has started and the project to harness the clean energy from the sun will be operational in early 2012.
Hervey Bay Hospital will also undergo a green retrofit through a $1.3 million solar power project. The array will generate a total output of 266 KW equivalent to 385 megawatt hours of energy annually saving more than 400 tonnes of carbon each year. The project will also include a large interactive LCD display that demonstrates the system's performance for public education purposes. It is expected to be fully operational early this year along with with the community solar farm.
By showcasing to the public the environmental value of solar technology and how it will help them reduce their electric bills, the local government hopes to encourage more private installations of solar panels in Hervey Bay. The projects will also instill a great core value in the region's youth introducing renewable energy at an early stage.
The state of Queensland aims to be the country's most sustainable city and is transforming energy generation town by town by creating virtual solar power stations and changing the public's views towards sustainability.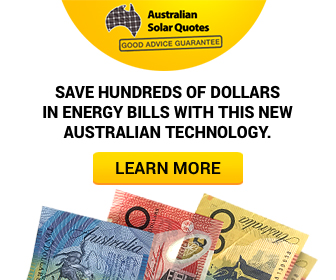 Advertisment - Learn more