Cairns Solar Power
The new Cairns solar powered Botanic Gardens Visitors' Centre, servicing the Cairns Botanic Gardens and Tanks Arts Centre, has been built with sustainability in mind.
The building will generate renewable energy – with 104 solar panels on the roof of the structure. This 20 kw system will generate the equivalent energy usage of five to six average homes a day.  Excess energy will be fed back into the electricity grid, providing clean energy.
The Cairns solar powered visitors' Centre building has a rainwater catchment system, and the water collected will be used in the building for flushing toilets and other non-potable uses.  Purple pipes have been installed to make use of recycled water from Council's sewerage treatment plant which will be used for irrigation of the gardens in the future.
The building design reduces the need for air-conditioning through use of louvres and fans to control air flow in each room.
The building is due to open in mid to late 2011.
Cairns Solar Power Botanic Gardens Visitor Centre
By Australian Solar Quotes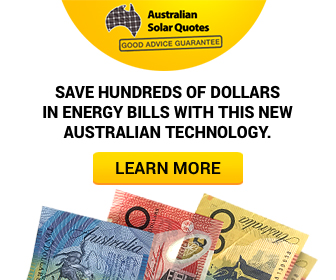 Advertisment - Learn more